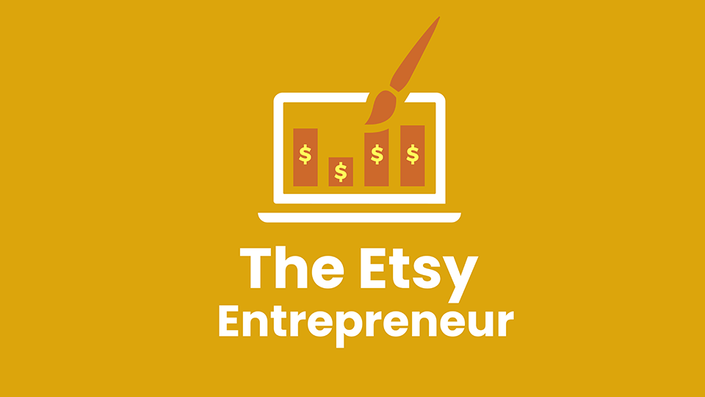 The Etsy Entrepreneur
How to Make An Extra $1,000/month in Passive Income Selling Digital Downloads on Etsy
Learn how to make over $1,000/month in passive income on Etsy.
Are you looking to make extra income?
Do you dream of building passive income channels towards financial freedom...but don't know where to begin?
I want you to know that you're not alone, and that you've come to the right place!
My Story
My name is Sharon Tseung, and I'm the creator of DigitalNomadQuest, a platform teaching people how to make passive income and create financial freedom. I traveled the world for 2 years, visited over 30 countries, all while growing my passive income streams to an average of $4,000/month and substantially increasing my net worth! To this day, I rarely touch my income streams, yet they're still making money for me.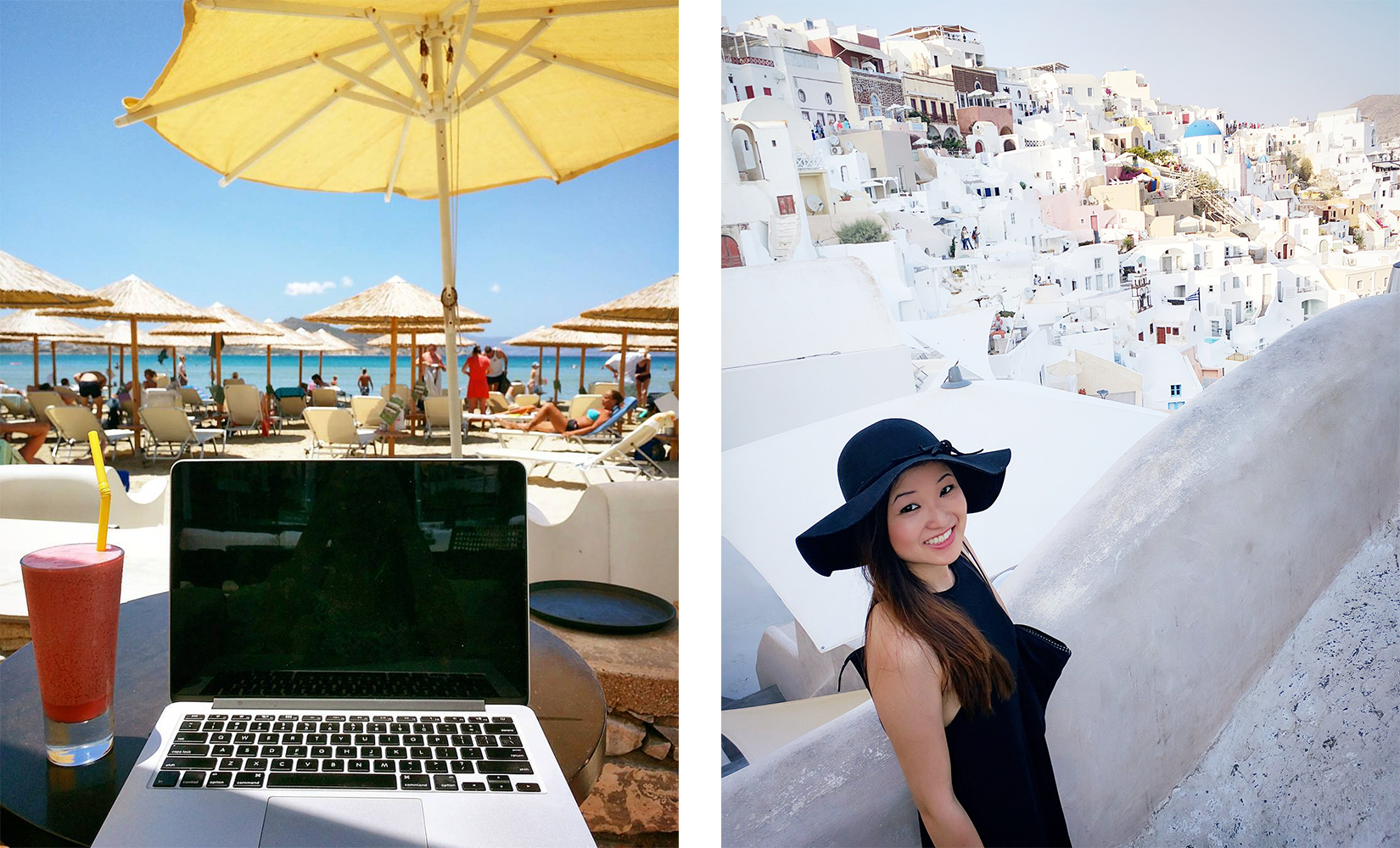 BUT...it wasn't always like this.
Before I embarked on my journey, I spent 4-5 years in an office, working for the man. I wasn't passionate about my work, and I didn't like that I was dependent on trading time for money. I kept trying to convince myself that this is how life's supposed to be.
But then I thought, what if there WERE another way, and I just hadn't figured it out? What if I could make money work for me, while doing what I loved?
I figured out what I really wanted in life: TIME. I wanted time to see the world, pursue my dreams, and work on something meaningful. I also wanted to inspire others to live THEIR dreams.
So in May of 2016, I quit my job and booked a one-way ticket to Stockholm to embark on my entrepreneurial journey on the road. At first it was scary defying social norms and leaving the comforts of a steady paycheck and career, but it ended up being one of the best decisions in my entire life.
One year of travel quickly became two. It didn't come without challenges, but that was the beauty of it. All the work I put in, the obstacles I overcame, and the risks I took paid off. During my journey, I built passive income streams to free up my life, with one of my main channels being Etsy.
With Etsy alone, I've made at least $30,000 in revenue (not all earnings pictured here). And most of this is profit because digital products have low expenses!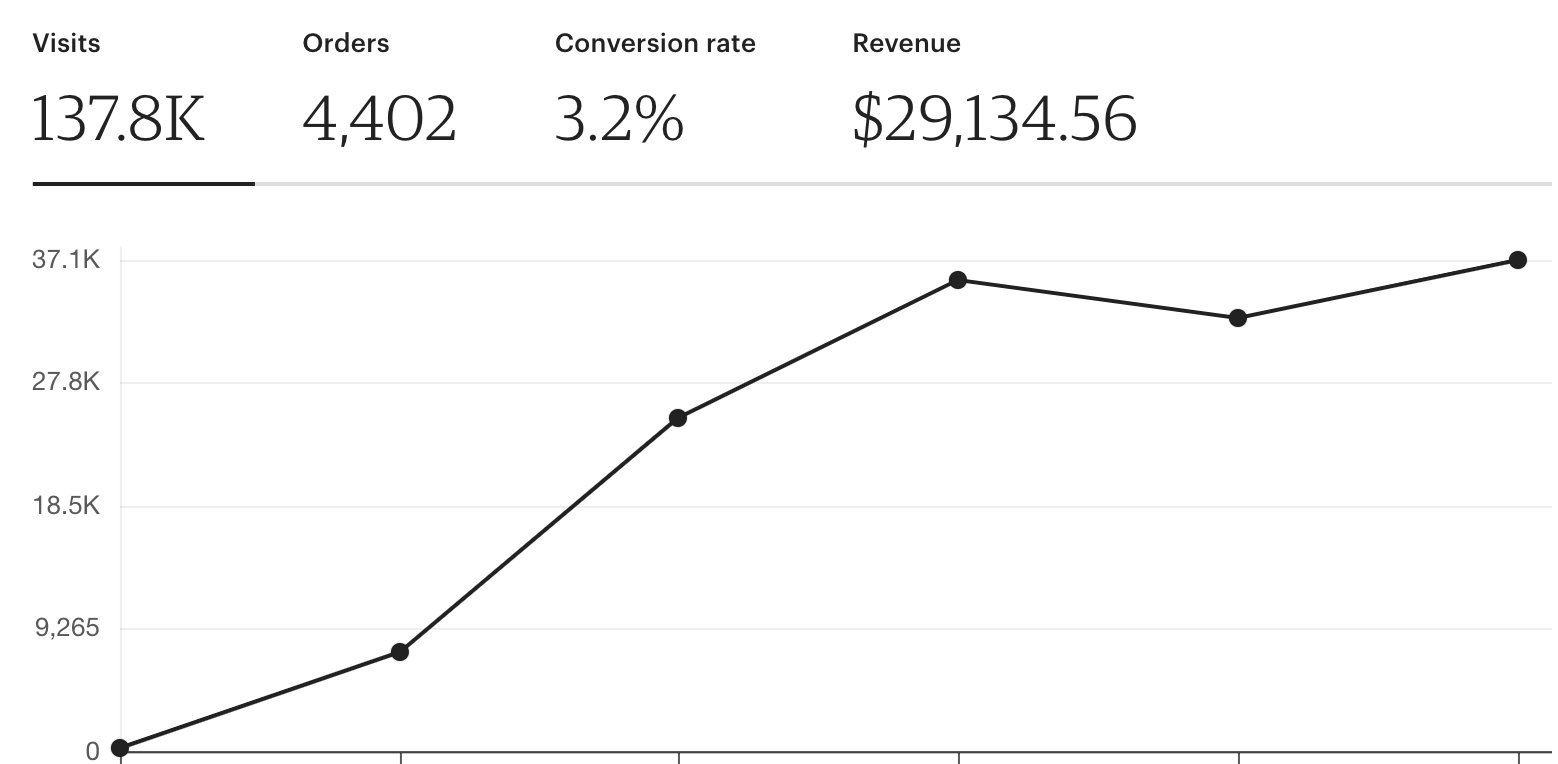 The Struggle and Why YOU Should Take This Course
When I first decided I wanted to be financially free and location independent, I had no idea how to even BEGIN making passive income. I needed to figure out some way to make income as I embarked on my journey.
I started browsing articles, reading books, and perusing different marketplaces, when I noticed people selling digital downloads on Etsy. That's when a light bulb came on. I realized with my graphic design abilities, I could create my own shop, brand, and passive income stream through designing Photoshop and MS Word templates.
However, this didn't come without struggles:
I couldn't find any good courses teaching people how to make passive income through digital downloads on Etsy.

I spent massive amounts of time just learning how the marketplace worked and how to optimize my listings.

I wasted a lot of time figuring out how to make listings quickly and design templates efficiently.

I had no good resources to rely on.

I made a lot of mistakes.
After years of building and refining my own Etsy shop, coaching others on their Etsy stores, and providing educational information on my blog, I wanted to help spread my knowledge. I began working on a comprehensive guide of everything I knew around Etsy and passive income to ultimately bring you The Etsy Entrepreneur (AKA the course I wish I had when I first started out)!
Introducing The Etsy Entrepreneur


This is a step-by-step course to take you from $0 to $1,000/month with selling digital downloads on Etsy.

This course includes:
LIFETIME ACCESS to 65+ video modules, with over 4+ hours of content ($350 value, price WILL increase in the near future)
10+ of my very own worksheets and templates ($150 value) including:

Descriptions

Customer support canned responses

Photoshop and MS Word instructions

Font lists

And more.

Bonus material ($99 value):

Social media strategies from my blogging course to boost traffic and conversions on your Etsy listings.

Access to exclusive interviews of successful Etsy sellers that discuss effective PR strategies, include comparable case study information, and provide overall strategies on how to make this business succeed.
I've been 100% committed to adding more BONUS course content and interviews over time, and you'll get FREE LIFETIME ACCESS to all future content!

You'll learn key fundamentals, my secrets, and strategies including topics like:

The benefits of Etsy and digital downloads

A step-by-step guide to setting up your first Etsy shop

How to craft and optimize listings effectively to get sales

An exclusive tutorial on how I create my templates on Photoshop and tips I use (that you can replicate over and over again)

Exclusive tutorials on how to create templates on Microsoft Word and printables on Canva.

Breakdown of SEO Advanced Strategies including Tags, Title, & Category optimization, and how to do SEO keyword research to get your products ranked in the marketplace

Customer support strategies

How to run sales and promotions to increase conversions
I'm essentially releasing ALL my knowledge around Etsy into this course. Therefore, you will have the keys to achieving $1,000/month in passive income through Etsy.
How Are Students Enjoying the Course?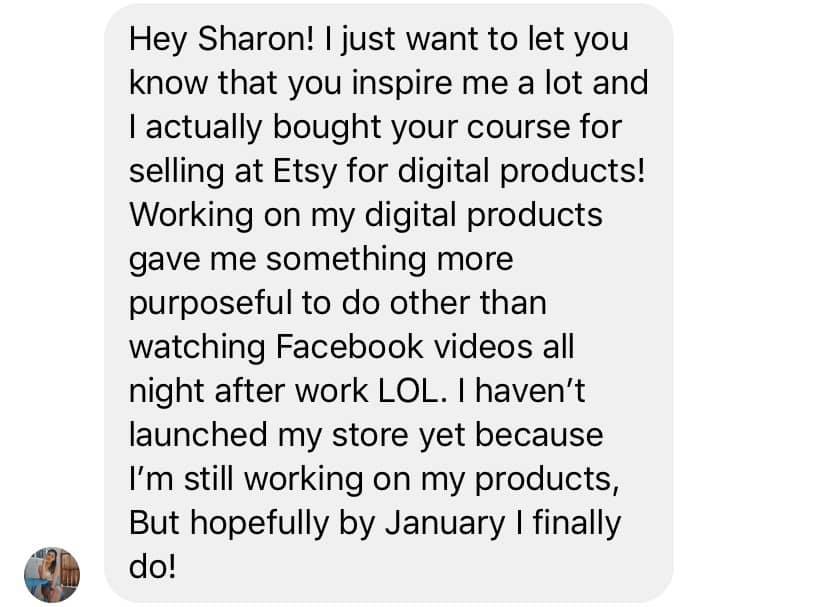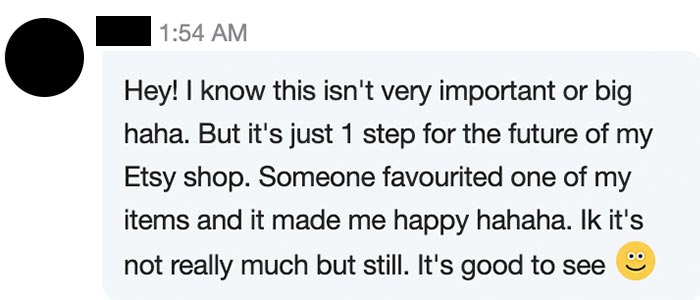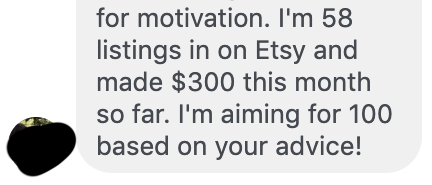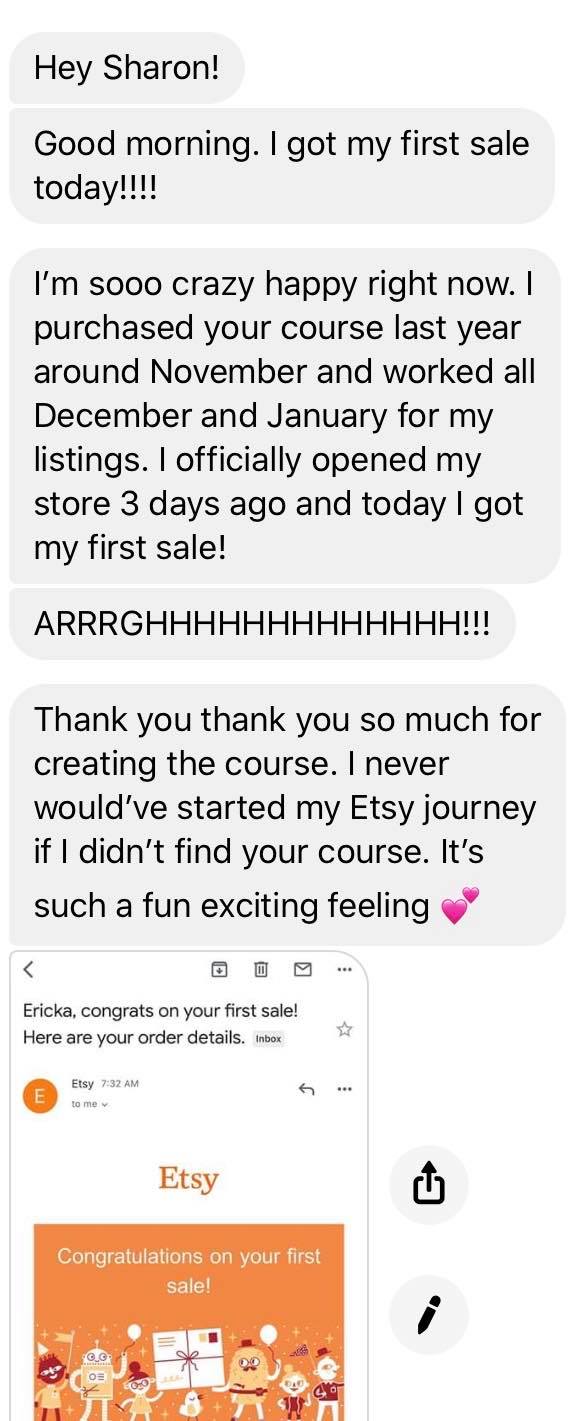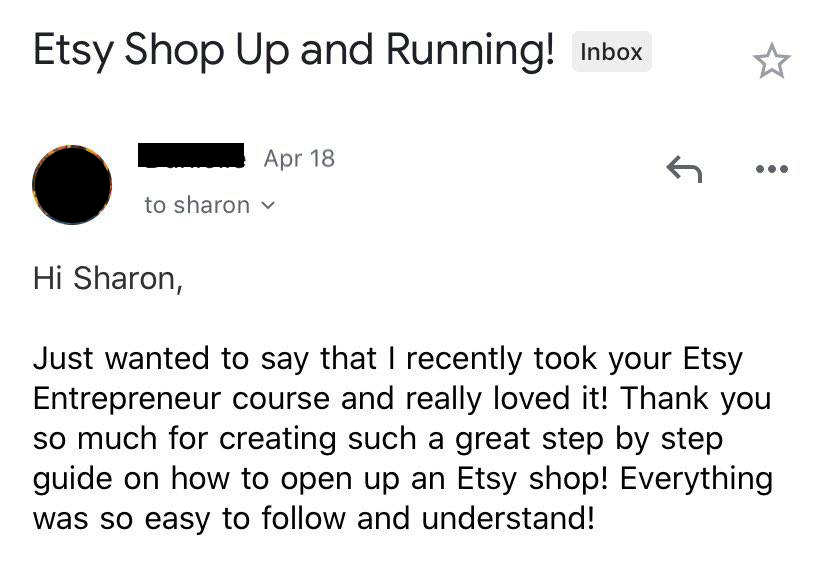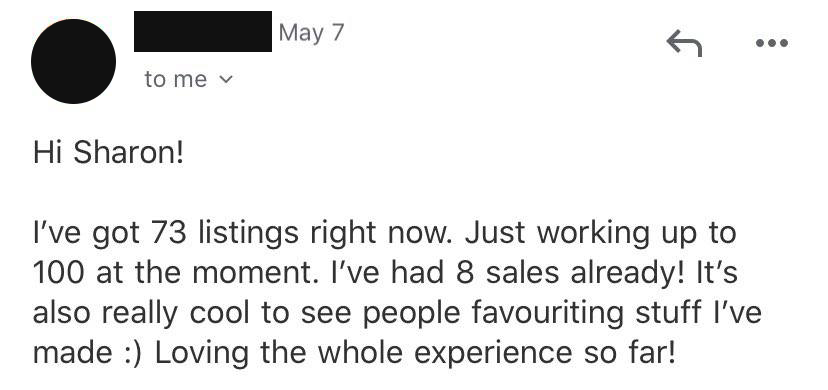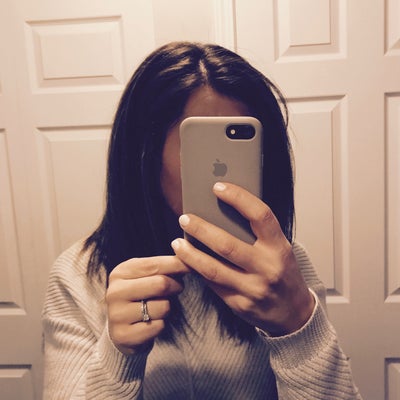 "If you're still on the fence about purchasing this course, don't be! Sharon makes learning how to be successful on Etsy easy with her step-by-step lessons showing you exactly how to set up your shop and start creating digital downloads. Truth be told, I had been eyeing Sharon's course for a while before actually taking the plunge and enrolling. It's now been about two months since I finished the course, and my shop is not only up and running, but I've also made a few sales!
What sets Sharon's course apart is that she's with you every step of the way via the course content as well as by email. You can tell that she cares about what she does, and wants her students to experience success. From understanding SEO to utilizing tools like Canva, Google Docs and Photoshop, this course gives you all of the knowledge and confidence you need to finally open up your own shop. At the end of the day, whether you have some knowledge of Etsy or no knowledge at all, you will definitely benefit from taking this course. I highly recommend it!" – 5/5 Stars
- Danielle G., Founder, Design Enthusiast Co. Etsy Shop / The Etsy Entrepreneur Student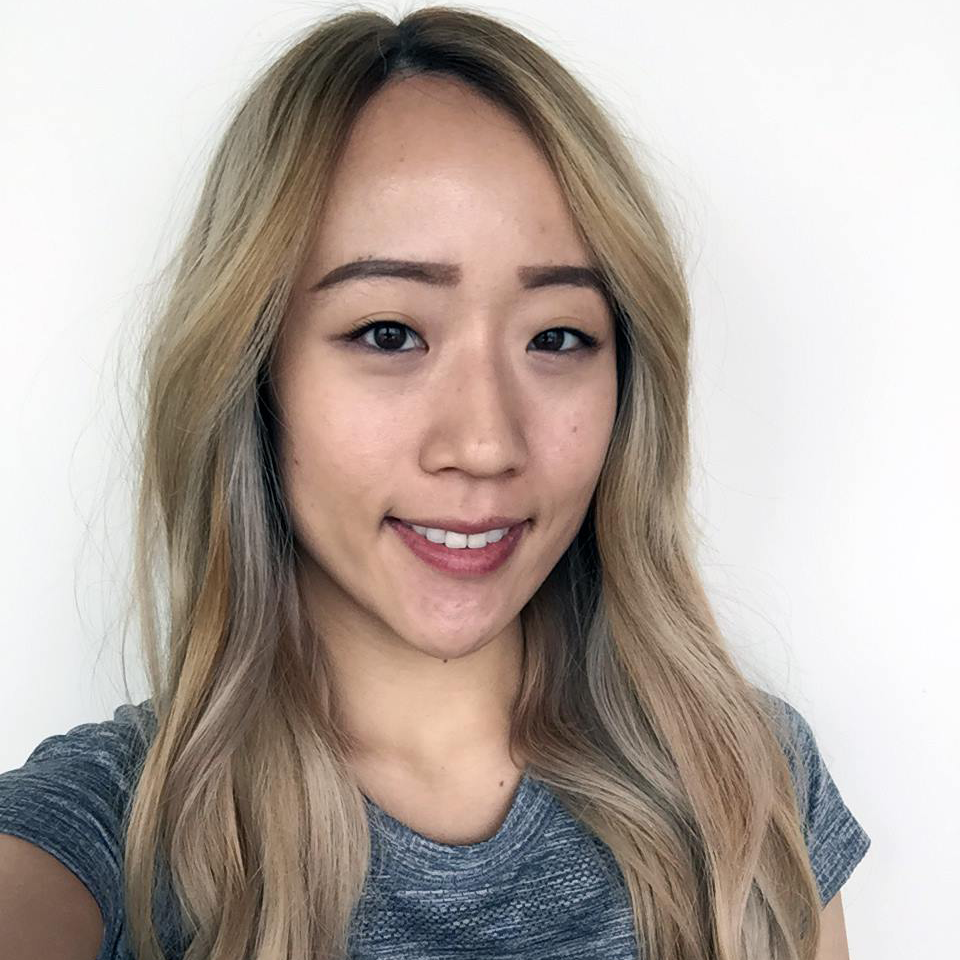 "The Etsy Entrepreneur covers everything from setting up and creating digital downloads, to SEO, to dealing with customers, and so much more. I was really impressed by how comprehensive the course is. It included in-depth information on how to rank on the Etsy marketplace, which gave me great ideas for my Etsy shop. This course has been a very useful resource for my passive income pursuits!" - 5/5 Stars
- Annie Wang, Founder, LycheeDesign Etsy Shop / The Etsy Entrepreneur Student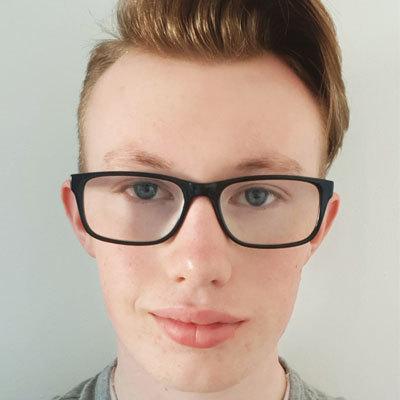 "Wow. Simply put, this course is amazing! From a young age I've always wanted to get into creating passive income, it heavily intrigued me. But I never knew what to do, where to start from, and I was truly stuck for a very long time. But one day, I came across Sharon's incredible site and business 'DigitalNomadQuest'. To say the least, I was interested. Not only does Sharon herself spoil her followers with her extremely informative blog posts, but she even created a course dedicated to helping YOU, make passive income simply. This course effortlessly conveyed the creation of passive income in a fun, and intriguing manner. It helped push me on the right track, and made me strive for greatness. And with some hard work and time, I was able to start my own Etsy shop. (By the way, I got my first sale on my shop! So happy about this, thank you so much Sharon!) The course not only helped me develop my own site, but however helped me carve out a brand I was able to be genuinely proud of and excited for. If you were in my position and want to aim high with creating a passive income based business, I 100%, without a doubt, recommend Sharon's course. I support all of her endeavours and I am interested to see what she achieves in the years to come!"

- Dan Barkes, Founder, Koche Designs Etsy Shop / The Etsy Entrepreneur Student

Your Instructor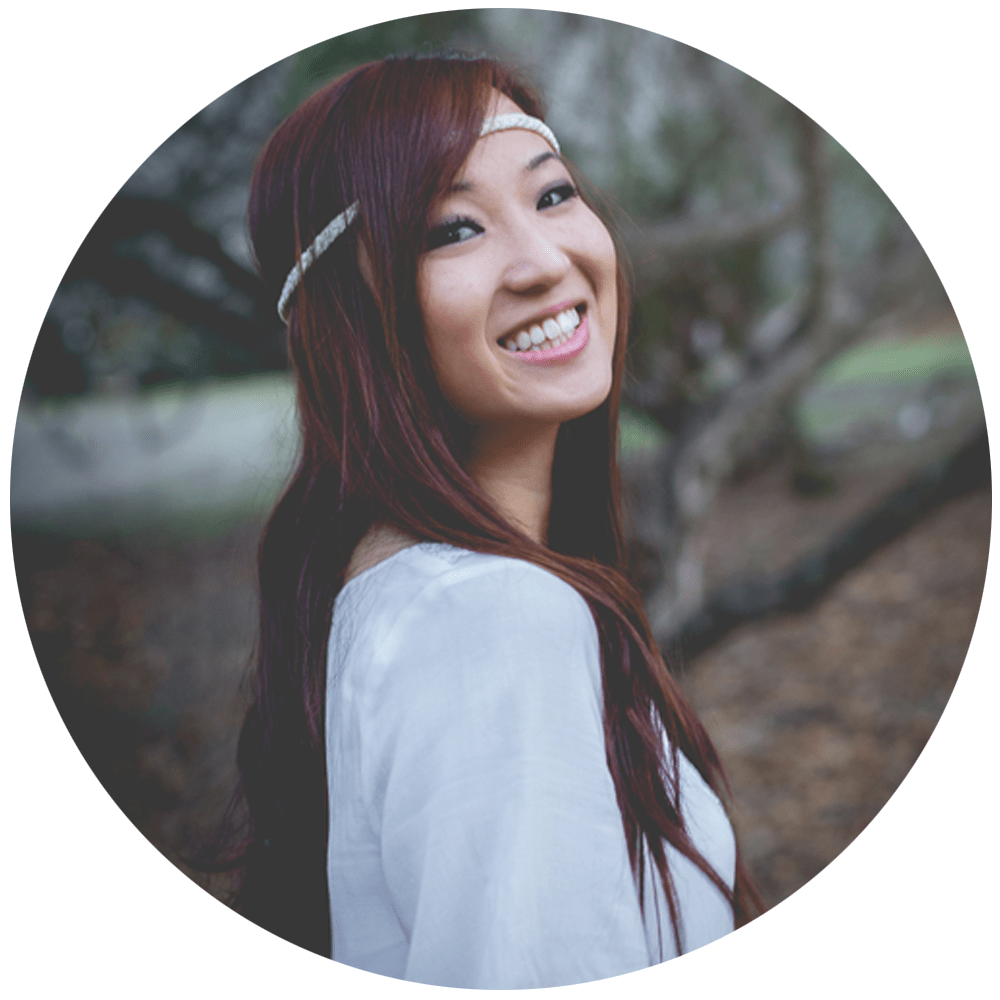 Sharon Tseung teaches people how to make passive income towards financial freedom through her blog (Digital Nomad Quest), YouTube channel (14k+ subs), TikTok (183k+), and Instagram (47k+). She has been featured on Yahoo Finance, Bustle, Fast Company, and other notable websites and podcasts. Sharon traveled as a digital nomad for 2 years, visited over 30 countries, all while growing over 8 passive income streams and exponentially increasing her net worth despite travel expenses.
Sharon previously worked as a digital marketing professional at various companies including Google. She graduated magna cum laude from UC Berkeley with a B.A. in Psychology and B.A. in Music. Her teaching experience includes coaching chess at 6 different chess clubs, teaching English to underprivileged students in Taiwan, and mentoring followers who seek financial freedom.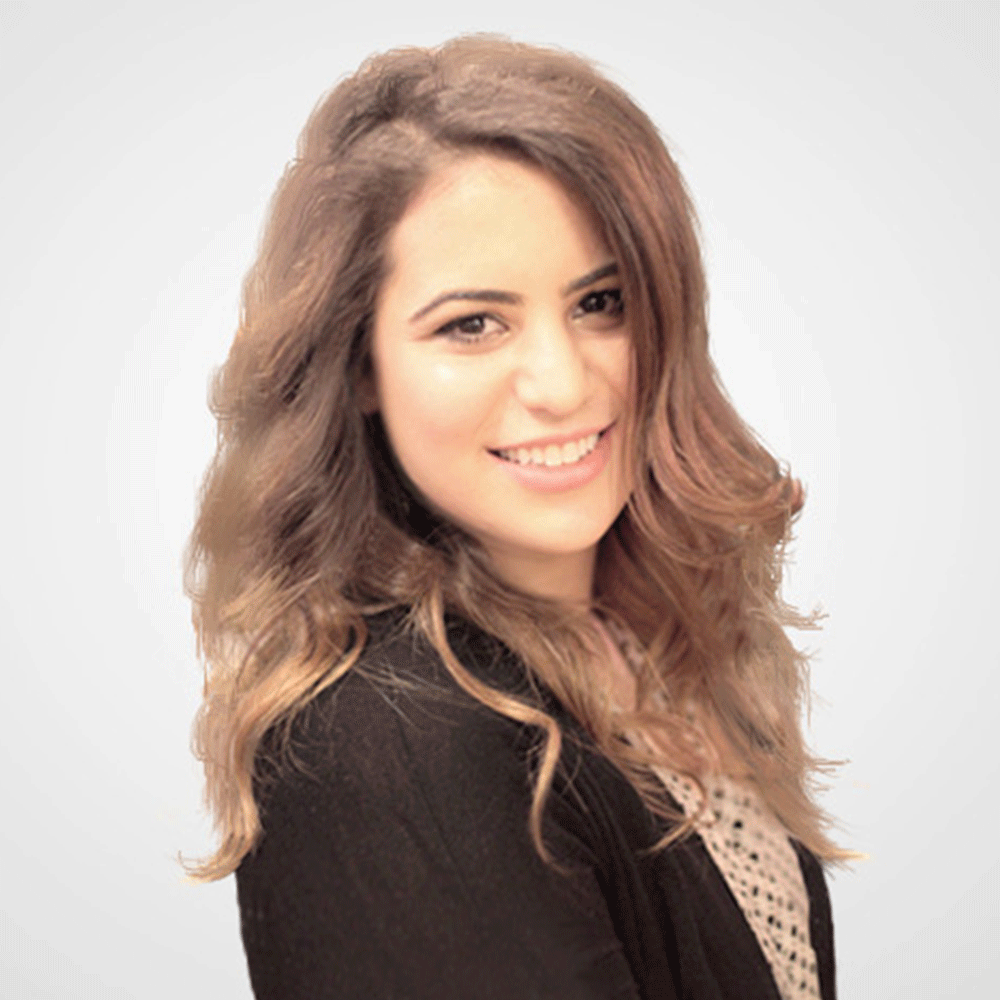 "I love how in-depth The Etsy Entrepreneur is and how it covers everything from start to finish. Even if you don't know ANYTHING about Etsy or digital downloads, you can become an expert on the platform and start making passive income. Sharon even guides you on how to make a digital download with free tools like Google Docs as well as paid apps like Photoshop. I was able to emulate what she taught to make my very own digital download.
Also I like how Sharon is to the point. The course content contains no fluff material that's super easy to consume. I've gotten a lot of great information from the course that has boosted my shop sales, just from following the SEO steps and tips. Even if you know a bit about Etsy, you will benefit from this course." - 5/5 Stars
- Arianna O'Dell, Founder, Ideas By Arianna Etsy Shop & Airlink Marketing / The Etsy Entrepreneur Student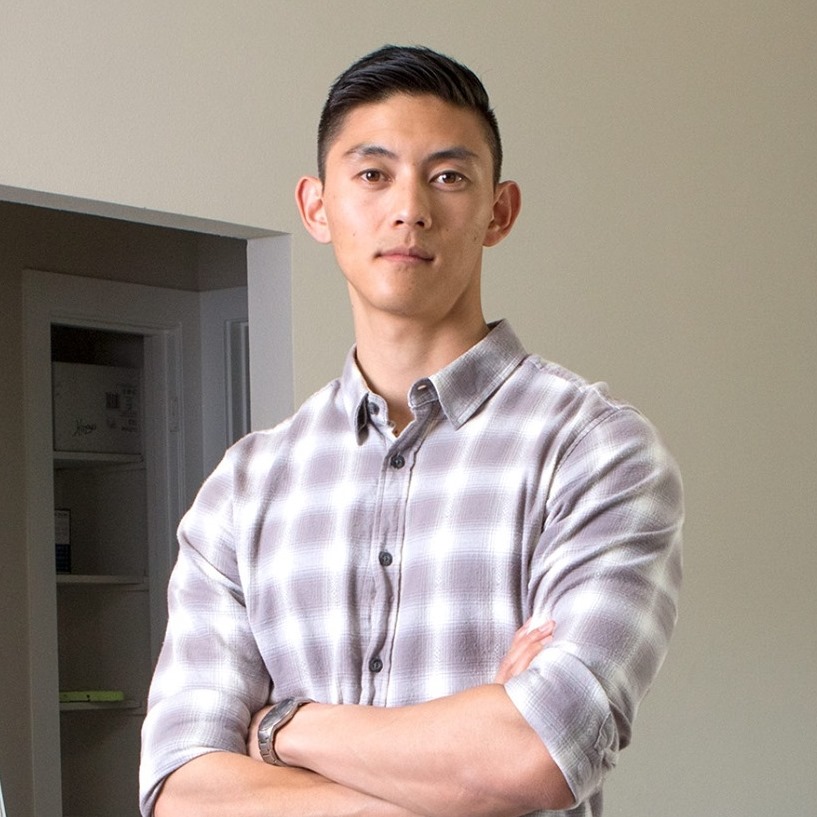 "The Etsy Entrepreneur is one of the best courses I've ever taken. I never knew that Etsy was such a powerful way to create passive income and this course had EVERYTHING you needed to know about the platform! This course is great for beginners who have never even been on Etsy before and Sharon does a great job of breaking down the individual steps that you need to create a successful business on it.
Besides the basic instructions of teaching us how to create and start selling a listing, she gives us great SEO tactics to help our products rank higher on the Etsy marketplace.
The most interesting part was seeing how easy it was to create a digital product using free tools such as Google Docs! By creating these digital downloads with free tools, we're able to create dozens of useful templates and designs, and sell them online without paying for inventory or holding costs! By selling our products on Etsy, we're able to earn enough passive income to supplement our current lifestyle and get one step closer to early retirement.
All of this information was basically given away for free. The passive income we get from using the methods in this course has paid for itself and then some within one month. Honestly, you could probably learn and figure out everything on your own, but it would take you hundreds of dollars and hours to do so. How much is your time worth? This course will teach you everything so that you won't have to struggle and waste your time.
If you're interested in earning passive income in a proven and well-tested method, you need to get this course. It'll change your life." -5/5 Stars
- Sean Pan, Founder, Everything REI / The Etsy Entrepreneur Student
Course Curriculum
Chapter 1: Introduction
Available in days
days after you enroll
Chapter 2: Overview of the Etsy Platform and Digital Downloads
Available in days
days after you enroll
Chapter 3: How to Create Your Digital Downloads
Available in days
days after you enroll
Course Prerequisites

In this course we'll walk you through two basic tutorials of how to make a digital download via Google Docs and Photoshop. However, you need to make sure you're willing to learn and create digital downloads to stock your shop. Creating quality digital downloads is crucial to your success on Etsy, and it may require some further research on what files you'll make and how you'll make them. You must be willing to put in the effort.

Digital products can include notes/guides on your expertise, ringtones, budgeting plans, invoice templates, wall art, Excel spreadsheets, calendars, illustrations, Wordpress themes, coloring book printables, MS Word resumes, crochet patterns, e-books, holiday card Photoshop templates, and more. This is just a brief sample of ideas. We'll provide a more comprehensive list of 105 instant download ideas in the course.

You should NOT take this course if:

You are already an expert Etsy seller making passive income with advanced understanding of Etsy SEO, customer support tactics, effective ways to make listings, and more.
You expect a get rich quick scheme. You're not going to buy this course and wake up a millionaire. This course gives you the information and tools you need to make money passively, but you will actually need to take action to achieve results. You will need to consistently spend time building out your Etsy shop and adding listings.
You're not willing to spend a few minutes a week maintaining your Etsy shop after you've set it up. I spend a few minutes a week maintaining my Etsy shop via customer support and SEO, so when I say passive income, there is still some maintenance required after you've set up your shop.

You SHOULD take this course if:

You are excited about making passive income.

You know how to make digital downloads. But if you don't, no worries. We will teach you some methods in doing so in this course!

You have no prior experience or have only basic level experience in Etsy, and you want to learn how to make money online.
Sample Course Video Screenshots: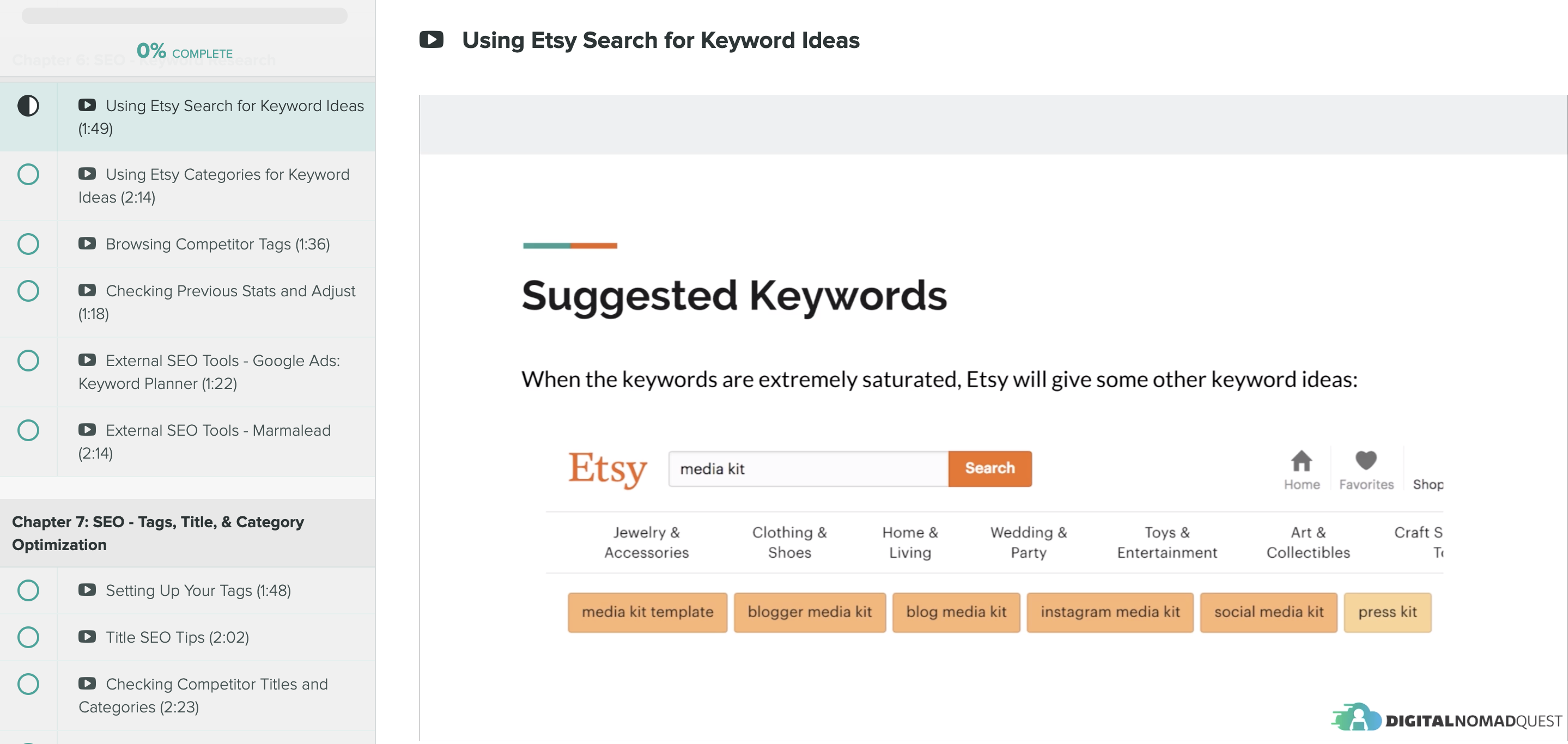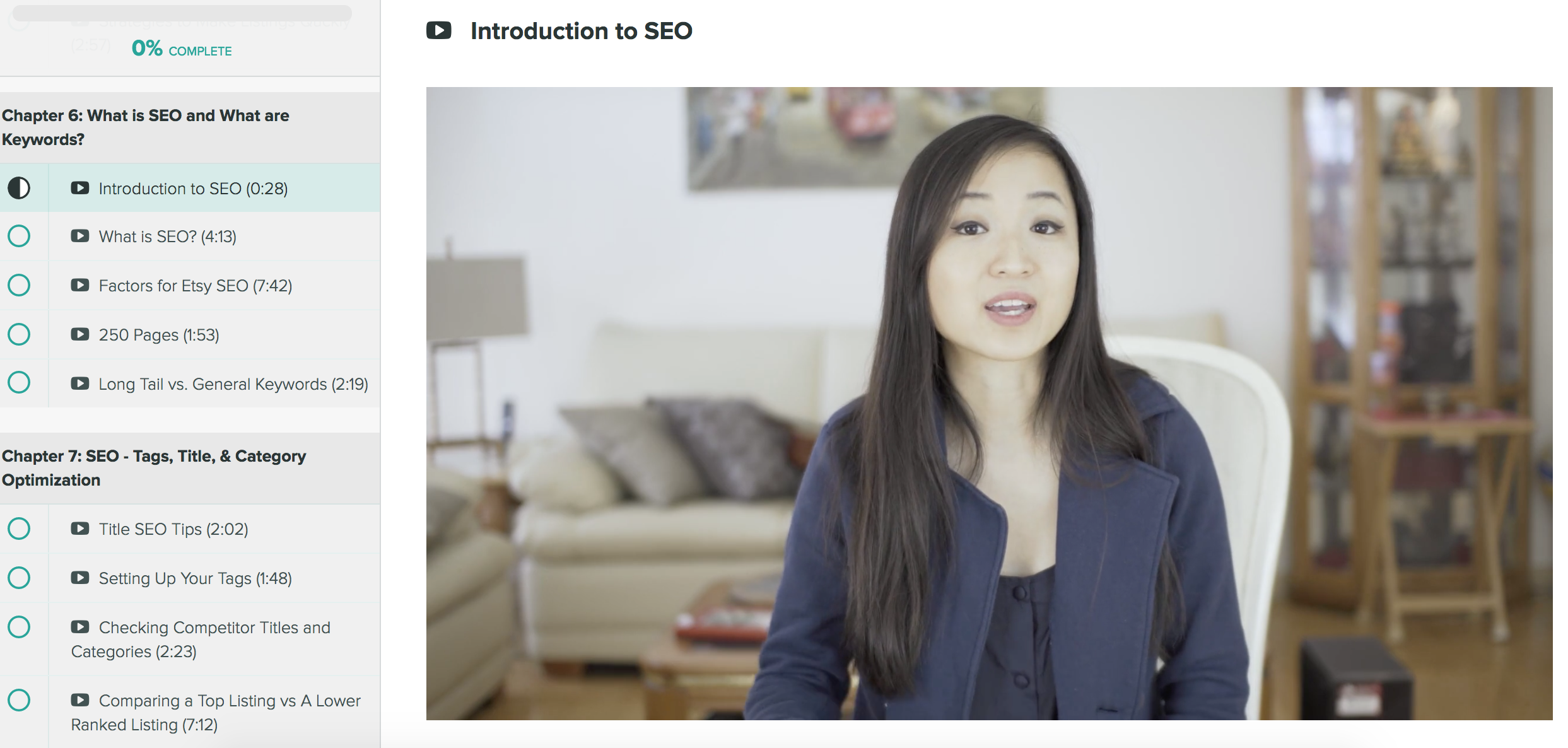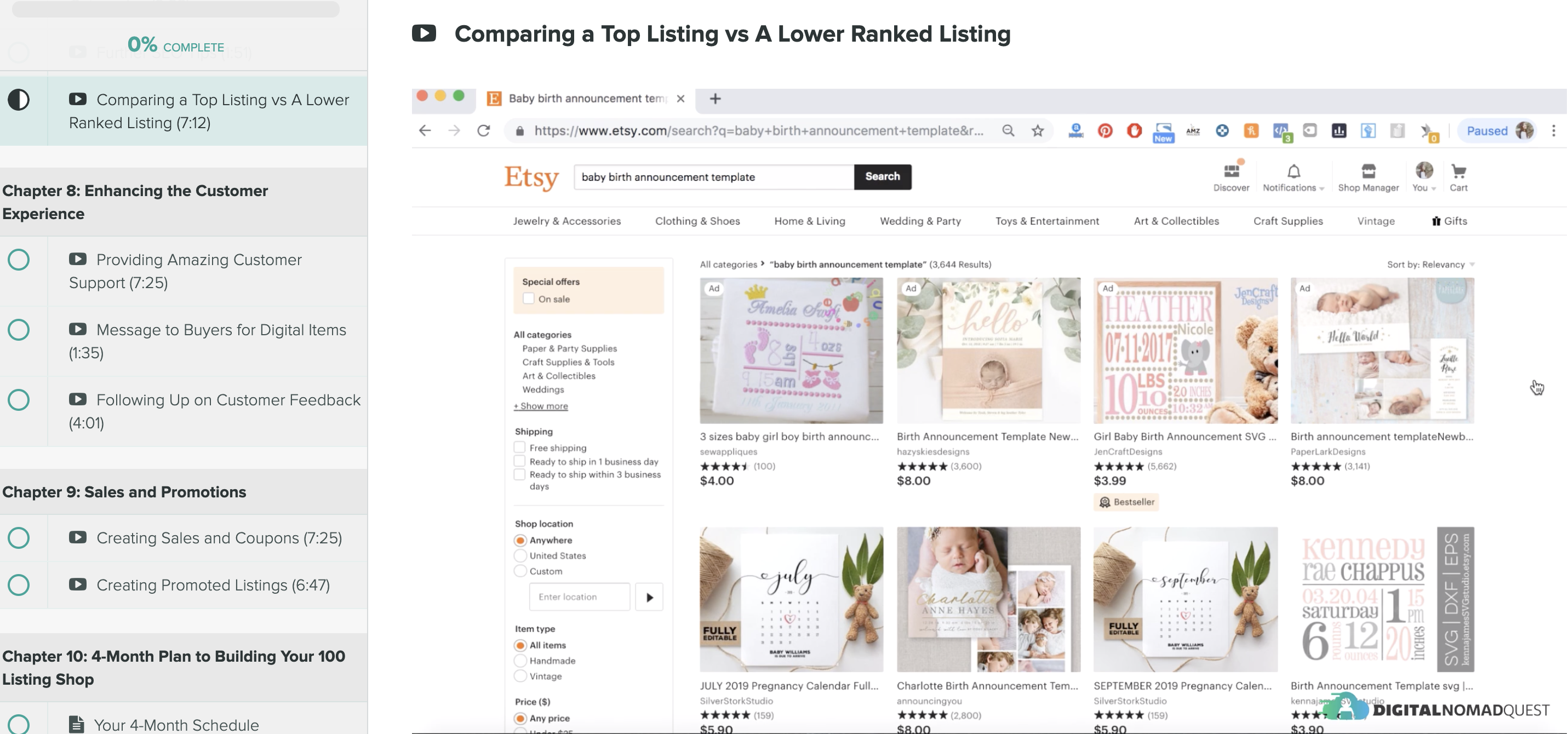 Frequently Asked Questions
When does the course start and finish?
The course starts now and never ends! It is a completely self-paced online course - you decide when you start and when you finish.
How long do I have access to the course?
How does lifetime access sound? After enrolling, you have unlimited access to this course for as long as you like - across any and all devices you own.
What if I am unhappy with the course? Do you offer refunds?
We would never want you to be unhappy! If you are unsatisfied with your purchase, contact us in the first 15 days and we will give you a full refund. All we ask is that you provide evidence that you've put these methods into place with your Etsy shop and can show that the practices have not worked for you. All refunds are subject to the terms of the full refund policy linked on the footer of this page.
What if I barely know anything about Etsy and haven't set up my shop?
No problem! I will walk you through STEP-BY-STEP how to setup your shop, create your digital downloads, optimize your listings, and more. In this course, I literally have you covered on all the instructions to get started.
Will this course help me get traffic to my Etsy shop?
Absolutely! This course provides strategies around SEO, social media marketing, and paid promotions to get you traffic onto your Etsy shop.
Can I find this information for free online?
You might be able to hunt down some information but it will equate to hundreds of hours researching and experimenting like I did. It's a huge waste of time trying to get the best information - and TRUST, I have efficient strategies that will help speed up your process in filling your Etsy shop with optimized listings. These strategies come from the thousands of hours that I have put into my shop over multiple years, and there was a lot of learning involved on the way. I've packaged all my knowledge into a step-by-step process for you that makes it easy for you to learn everything you need to know.
Do you ever update the course?
Absolutely. I will update everything as needed and will pay close attention to the information and its relevancy. You'll get FREE LIFETIME ACCESS to all future content!
Is my credit card secure?
The platform uses Stripe Express to process credit/debit card transactions, as well as allows for PayPal payments. So feel comfortable knowing your transaction is protected from fraud.
My Honest Disclaimer
Hi, Sharon here!
With this knowledge you have the potential to achieve my $1,000/month passive income figures as I am passing all of what I know into this course. However, I want to make sure you understand this is not a get rich quick scheme and your results will vary significantly. Your success depends on many factors including: how much consistent action you take, your implementation of the course, demand for your product, pricing, your digital download quality, your customer support responses, and more.
This offering is an education tool. Please remember that running a business involves risk, and some businesses succeed while others fail. My testimonials are real and valid, but they are not guarantees you will obtain the same results.