Learn how to make passive income through buying out-of-state cash flowing rental properties


Are you interested in owning rental properties but feel
LOST
and
OVERWHELMED
with the buying process?


Do you wish to own a cash flowing rental with
RECURRING PASSIVE INCOME
, without the need to actively manage the property? 


Would you like to buy properties that you can
ACTUALLY
AFFORD
? 
We want to let you know that you're not alone
and that you've come to the right place!
Our Story


If you're like most, the idea of being stuck in a 9-5 without options sounds scary. You've probably heard that creating multiple passive income streams is the way out of the rat race and into financial freedom.
If so, you might have heard that real estate investing is one option to do this, but the process always seemed costly, complicated, and daunting.


Like you, we were scared of working endlessly until our late 60's, which drove us to look into rental properties.
We would spend each day checking local listings on Redfin and Zillow just to find that everything was too expensive to purchase.


Then, we would look into more affordable cities out-of-state, but even when we saw enticing deals we wouldn't do anything about it because we were scared of investing in unfamiliar territories.
And with our busy day jobs, we couldn't see ourselves investing and handling potential property issues remotely. 


Out-of-state investing seemed like a great idea, but we just didn't know what to do next.
We didn't let our fears stop us.
Despite these challenges, we knew that investing in real estate would help us become financially free and create generational wealth. Because of this, we spent 6-8 years studying multiple resources and networking. And while we continued learning, we worked hard on increasing our income and saving to fund our investments.
By studying and taking action we ended up purchasing 32 units combined!
Here are a few of our properties:
Our current gross rental income is $28,818/month -
and we're constantly growing it!


Our cash flow from our properties allows us to:


- Choose the jobs we want to take (or not take)
- Pursue our dreams and passions without worrying about money
- Spend time with our loved ones
- Relax and take time off when we want to
- And ultimately, design our best lives, so we can live purposefully with intention.
The Struggle and Why YOU Should Take This Course


Although we've seen success investing remotely, we've made costly mistakes that could have been prevented if we had guidance and a strong system to properly invest in out-of-state rentals.


One incorrect real estate investment decision could cost you thousands of dollars (or more).


Through experience, we've developed a blueprint to efficiently purchase cash-flowing rentals, and we want to give you that step-by-step guidance to do the same.
Introducing Remote Rental Riches


This is a step-by-step course to get your first out-of-state cash-flowing rental property.
This course includes:

- 60+ video modules ($999 value, price WILL increase over time)

- 14+ worksheets, quizzes, and homework assignments ($150 value), including:
- Our Exclusive Property Analysis Calculator
- Terms and Definitions Worksheets
- Scripts - Exactly what to say to find your dream team
- Checklists - To make sure you've tackled every single item in the process
- Exclusive case study footage of us doing the process with you! ($299 value)
- Watch us call and vet our dream teams, conduct property walkthroughs, and more.
- Our case studies
reveal 2 of our target markets!
- Continuous updates to the course at no additional cost. ($199 value)
- We are committed to adding more BONUS course content and interviews with investors over time. (We love all things real estate and enjoy adding content!)
You'll learn key fundamentals on how the entire process works
,
including how to:
- Research and choose your target market
- Find and analyze rental property deals
- Build a boots on the ground team including your agent and property manager 
- Finance your properties


And you'll understand:
- The entire escrow and loan process
- Common key terms in the real estate industry
- Big-ticket repair items to look out for
- Future exit strategies
- As well as how to continuously repeat the process to achieve financial freedom!
With the Course ($999 Value)
You Receive these Bonuses for FREE
How Are Students Enjoying the Course?
Check Out Pat Flynn's Testimonial of Remote Rental Riches!
Check out Grace's Testimonial of Remote Rental Riches!
Grace Lee, Designer / Remote Rental Riches Student


Check out Adrian's Testimonial of Remote Rental Riches!
Adrian Verdin, Bay Area Investor / Remote Rental Riches Student
Check out Chetan's Testimonial of Remote Rental Riches!
Chetan Patil, Bay Area Investor / Remote Rental Riches Student
Check out Pooja's Testimonial of Remote Rental Riches!


Pooja Chauhan, Financial Analyst / Remote Rental Riches Student
Check Out Jordan's Testimonial of Remote Rental Riches!
Jordan Becker, Attorney / Remote Rental Riches Student
Hey Sean and Sharon,
Just wanted to let you know that I just took your Remote Rental Riches course, and I am so glad that I did! I had been reading up on real estate investing for several months and listening to RE investing podcasts, but none of those seemed to convey a solid and thorough foundation of exactly how to do real estate investing from start to finish. But your course did!  
I really like that it provides detailed, understandable step-by-step instructions on every stage of the real estate investing process, from initial market research, to placing an offer, to closing escrow, to managing the property, to exit strategies. And it is very streamlined, providing just enough high-level information to give the big picture, without getting bogged down with low-value information (unlike some books I have read).  I also really like the mixed media format of the course. You and Sharon present the material in a very straightforward, easy-to-understand manner; and the video walk-throughs of how to use online resources to analyze properties, how to view a property from an investor's perspective, how to interview potential property managers, etc., were all extremely helpful!
Anyway, just wanted to let you know that I think your course is a fantastic resource for people who are just starting to get into real estate investing, or who are just thinking about it, and I would highly recommend it.  Well done!
Jordan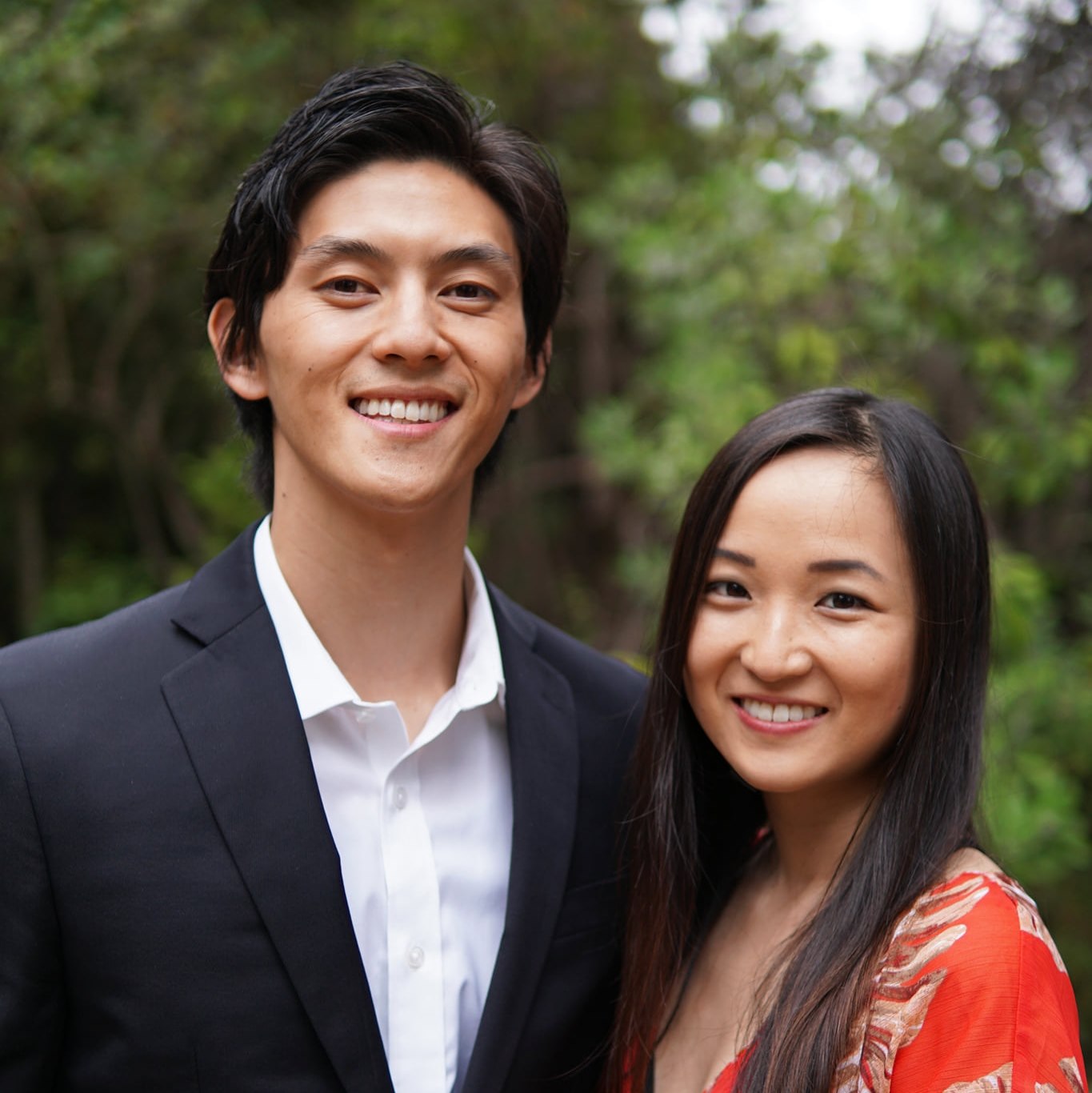 Your Instructors
Sean Pan is a real estate investor, agent, and hard money lender based in the San Francisco Bay Area. He invests in single family renovations and out-of-state investments. Sean is a podcast host, meetup group leader, and YouTuber who produces real estate videos to help others achieve financial freedom. He holds a Masters in Electrical Engineering from UCLA and previously worked at Boeing and Northrop Grumman.
Sharon Tseung is a content creator and real estate investor who teaches people how to make passive income towards financial freedom through her blog, YouTube channel, TikTok, and Instagram. She has been featured on Business Insider, BBC, Entrepreneur, Yahoo Finance, Bustle, Fast Company, and other notable websites. In the past, she graduated from UC Berkeley and worked in Marketing for 10 years at Google and other startups. Sharon quit her job and traveled the world as a digital nomad for 2 years, all while growing over multiple passive income streams.

You should NOT take this course if:


- You are struggling to make ends meet:
Real estate investing takes some capital and time to see the fruits of your labor. If you're struggling with your current financial situation, it'll be best to resolve those issues before taking this course.
- You are already an expert real estate investor: 
This course is a comprehensive guide for the entire real estate investing process, but it is designed for newer investors who want to purchase their first rental property.
- You expect a get-rich-quick scheme:
 Don't expect to buy this course and wake up a millionaire the next day. This course gives you the information and tools you need to generate wealth through real estate investing, but you will need to spend time and take action to achieve results.
You SHOULD take this course if:


- You are excited about real estate investing to build passive income streams.
- You live in an area in which local real estate is expensive so you want to learn how to buy out-of-state.


- You're ready to take action and you're looking for a comprehensive, step-by-step guide to help you buy your first property.
Screenshots from the Course

Frequently Asked Questions
When does the course start and finish?
This is a completely self-paced online course - you decide when you start and when you finish.


How long do I have access to the course?
How does lifetime access sound? After enrolling, you have unlimited access to this course for as long as you like - across any and all devices you own.


What if I am unhappy with the course? Do you offer refunds?
We would never want you to be unhappy! If you are unsatisfied with your purchase, contact us in the first 15 days and we will give you a full refund. All we ask is that you provide evidence that you've put these methods into place by showing your notes with who you've contacted and the homework assignments that you've completed so far.


What if I barely know anything about real estate investing and have no idea where to invest out-of-state?
No problem! We will walk you through STEP-BY-STEP how to choose your target market, build a local "boots on the ground" team, analyze deals, make offers, and acquire your first rental property. In this course, we literally have you covered on all the instructions to get started.


Can I find this information for free online?
You might be able to hunt down some information but it will equate to hundreds of hours researching, experimenting, and consulting with other investors as we did. It's a huge waste of time trying to get the best information - and TRUST US, we have efficient strategies that will help speed up your process in finding and acquiring your first out-of-state rental property. These strategies come from the thousands of hours that we have put into our real estate investing journeys throughout the years, and there was a lot of learning involved on the way. We've packaged all of our knowledge into a step-by-step process that makes it easy to learn everything you need to know.


Do you ever update the course?
Absolutely! We will update everything as needed and will pay close attention to the information and its relevancy. You'll get FREE LIFETIME ACCESS to all future content!


Is my credit card secure?
The platform uses Stripe Express to process credit/debit card transactions, as well as allows for PayPal payments. So feel comfortable knowing your transaction is protected from fraud.
We're Excited to Have You!


We hope this was a great breakdown of what the Remote Rental Riches course includes, and we're really excited to help you purchase your FIRST out-of-state rental property (and many more to come).


Don't make the same mistakes we did when we started out as the opportunity cost of wasting time is way too high!


And to note, the price of this course
WILL INCREASE as more content is added but if you
enroll in the course today,
you'll get
 FREE LIFETIME ACCESS
 to all current and future content.
Our Honest Disclaimer
With this knowledge you have the potential to purchase cash flowing rental properties and replicate the process over and over again. While we believe you can be very successful through following the program, we want to make sure you understand this is not a get-rich-quick scheme and your results may vary. Your success depends on many factors including: how much action you take, which market you choose, tenant migration patterns, how the financial markets change, and more.
This offering is for educational purposes - please remember that investments involve risk and you should do your own due diligence before investing. We are not responsible for any losses, damages, or trauma you may incur in your own investing. Please consult with a certified professional before making any financial decisions.